Year 2015
In 2015 we've designed our High Speed Taping Machine for a Bobst Masterfold 230.
The HSTA is the Best-in-Class of Taping e-commerce related packaging, extreem Innovative, Reliable, high speed (>200 m/min) on both tearstrip and silicon paper, high commitment of its designers and focussed on one single objective: to be the best in class in the E-Commerce industry
A Unique Servo Driven High Speed Vacuum Wheel Taping System developed to apply Film, Paper, Finger lift Tape as well as Tear Strip Tape
to moving products being conveyed on a folder gluer or similar machine.
In rspond to sustainability requirements of our customers we've recently starten with a system to apply two pieces of Silicon Paper and to eliminate the 'Plastic' Tear Tape. One Silicon Strip for Closing and one for Returning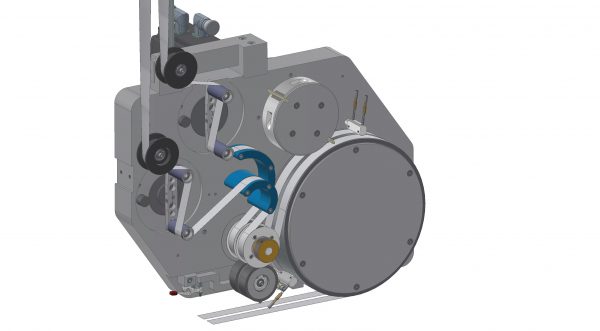 This System applies simultaneously two tapes; both tapes driven by one servo-drive feeding roller and having both the same cut-off length.
We advise not to run "Folded" products through the applicator due to differences in paper-thickness.
A drive roller or -belt underneath the vacuum drum is advised to eliminate differences in speed.
Silicon Paper
Machine Speed 0-200 m/min>
Tape Lenght minimum 90mm
Tape Length maximum 1.500 mm
Paper width 20-30 mm
Paper weight 40-70 g/m²
Reel, Inner core Diameter 6-Inch
Jumbo Reels, Inner core Diameter 3-Inch
Jumbo Reels, Outer diameter 350mm (Traverse spooled reels)
Tear Strip Tape
Machine speed 0-200 m/min
Tape Length minimum 90 mm
Tape Length maximum 1.500 mm
Tape width 4 – 6 mm
Jumbo Reel, Inner core Diameter 6-Inch (152mm)
Jumbo Reel, Maximum Outer diameter 350mm